Oh don't we wish we have all the money in the world for all the goodies in the world? Well, dreams may remain dreams but that won't stop us from fantasizing.
If you got the dough, here are some places in Bali, Indonesia that will surely rock your socks.
1. Viceroy Bali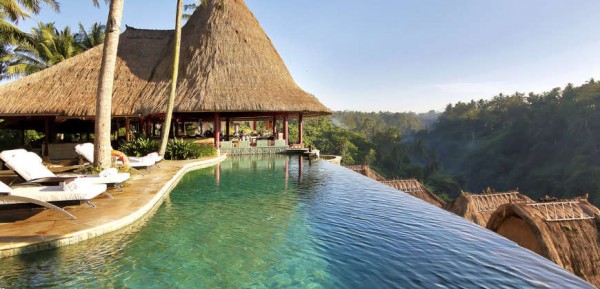 The Viceroy Bali is well known amongst international travellers as one of the world's best hidden tropical hideaways. With luxury trimmings, hints of Balinese traditional architecture and ultra modern amenities, each of the 25 villas available also feature relaxing outdoor spaces with stunning views of the luscious valleys.
Stay at one of the terrace pool villas for around RM2500 a night.
2. Villa Bayuh Sabbha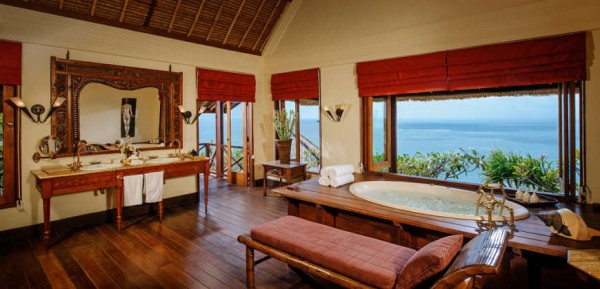 Set on 3-acres of land on a coastal cliffside location, this magnificent 5-bedroomed residence offers meticulously manicured lawns flanked by frangipani trees and brilliant bougainvillea blooms, two swimming pools, wide open terraces and high ceilings, making it the perfect vacation spot. Villa Bayuh Sabbha, or House of Breezes, blends traditional architecture and modern elements to pull the breathtaking views into its spacious bedrooms and spaces.
A night at Villa Bayuh Sabbha goes for about RM3000 a night and you have to stay a minimum of 5 nights.
3. Karma Kandara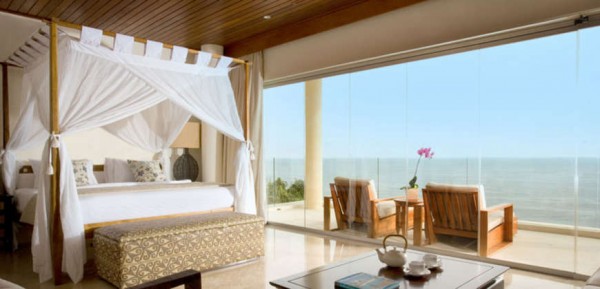 Located atop a spectacular cliff overlooking the Indian Ocean on Bali's southernmost tip, the Karma Kandara Resort offers stunning views of the ocean. The 46 private villas are connected by stone walkways and quaint little paths, obscured by tropical plants giving you utmost privacy.
Every villa comes with an infinity pool complete with a timber deck lounge and the interiors evokes Mediterranean ambience while retaining a sleek, modern feel.
Interested? A night at Karma Kandara will set you back about RM2900 and yes, you have to stay for 5 nights at the least.
4. Villa Raj at Majapahit Beach Villas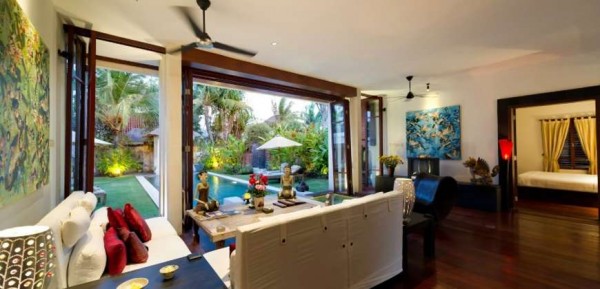 The Villa Raj at Majapahit Beach Villas is a 3-bedroomed two-storey villa with private walled garden complete with a 12-metre swimming pool. A favourite feature of the villa is the double jacuzzi that extends into the living space and overflows into the pool, very luxe! At the far end of the pool is a massage pavilion and in one corner of the garden is a large balé relaxation pavilion. The design of Villa Raj is inspired by the ancient Javanese Majapahit kingdom, thus constructed with local and traditional materials juxtaposed with stylish modern architecture.
A night at Villa Raj will cost you slightly more than RM2000, and you have to stay for a minimum of 7 nights during peak season.
5. Maya Ubud Resort & Spa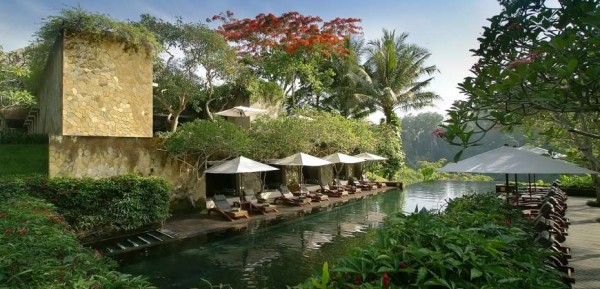 Bordered by the vast Peliatan rice fields on the west and the Petanu River valley to the east, Maya Ubud is located within a slice of tropical haven just an hour from Ngurah Rai airport. With 108 thatched private pool villas and luxury guestrooms featuring contemporary decor with smattering of traditional local influences, you can be assured of a luxuriously executed holiday. This multiple award winning resort is also an active champion of local sustainability and eco-friendly practices.
One night at the deluxe pool villa will set you back a surprisingly reasonable RM1700. Cheap as chips for the moguls and a rather realistic option for the would-be moguls 😉
6. Sanur Residences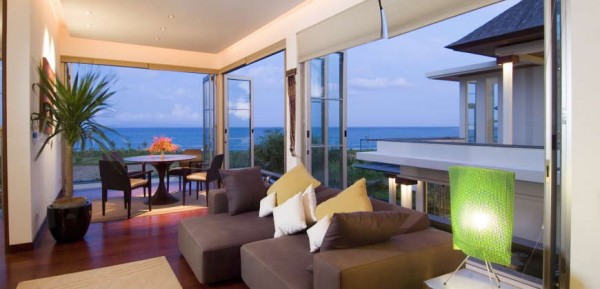 The 9-bedroomed Sanur Residence is designed with a slick, modern twist featuring luxurious ironwood roofing, large windows for the amazing view, broad balcony terraces for massages and other relaxing activities, all decorated in sleek, white décor. Bordered by eye-soothing rice, sweet corn and tobacco plantations, Sanur Residence also offers an unobstructed view of the ocean. The contemporary tropical residence with influence of the traditional Balinese villa is split into three houses boasting three bedrooms each, complemented by en-suite bathrooms, a large living area, dining room and a fully fitted kitchen for the culinary enthusiasts.
At peak season, a night at Sanur Residences is a mind-blowing RM6000 and you have to stay for a minimum of 7 nights. However, when you consider that it's for 9 bedrooms, it isn't that exorbitant really. Really?
If you don't have the dough, no worries. Who knows this list may come in handy one day! Stay positive 🙂
Comments
comments

By the way, if you enjoyed this article, please help make our day and like our Facebook page!